25 YEARS OF PANDA
PANDA...THE BEGINNING
The Paediatric Neurology and Development Association of Southern Africa (PANDA-SA) was inaugurated in Bloemfontein at 12h45 on Thursday the 26TH of September 1996, at the SA Paediatric Association's biannual meeting.

Background

After being fortunate to have been awarded the Kathleen Swallow Fellowship to obtain my PhD in Child Development at the University of Alberta, Canada, I was able to join several international neurology and developmental associations in Canada and the USA. The usefulness of these organizations were not lost on me, and I realized that if the two fledgling sub-specialities of Child Neurology and Development were to thrive and grow, we would have to institute a similar association in South Africa also...read more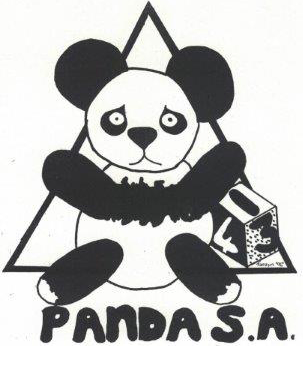 Our original logo
About us
The objectives of the Association are the promotion of communication and networking between professionals in the fields of Paediatric Neurology and Child Development in Southern Africa.

This will be achieved by forging international links, the furthering of education, the lobbying for children with special needs, research, the organisation and facilitation of specialised services and functioning as a pressure group...read more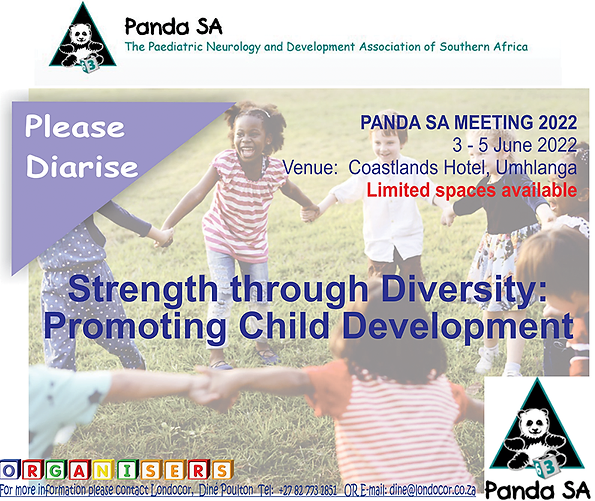 Local Meetings
The 2022 PANDA workshop!
Dear PANDA SA Members

You are hereby cordially invited to the 2022 PANDA workshop to be held from 3-5 June 2022 at The Coastlands Hotel, Umhlanga in Durban.

Our theme this year is Strength Through Diversity – Promoting Child Development. The meeting will focus on various child development and child psychiatry topics.

We have an exciting program planned including 2 esteemed international speakers -

Professor J Barkovich (Paediatric Neuroradiologist -University of California) and Professor Michelle Durham (Child Psychiatrist -Boston Medical Centre).

Click here for more informationon on the registration form, accommodation options and program.